The Faculty of Psychology
The Faculty of Psychology
Department of Psychology (2019 enrollment limit: 150 students) Established in 2018
The Faculty of Psychology was established in April 2018 to further expand the studies offered to date by the Department of Human Psychology in the Faculty of Humanities and Sciences by preparing students to better understand the human psyche and aid in the resolution of an increasingly diverse array of social problems.
The Faculty is dedicated to endowing students with a broad range of knowledge and problem-solving abilities by offering studies in psychology as a living social discipline in the form of practical knowledge that is useful in a variety of workplaces and by providing a curriculum that prepares students to become certified psychologists under Japan's first official qualification in psychology.
Developing a comprehensive, multifaceted understanding of the human psyche.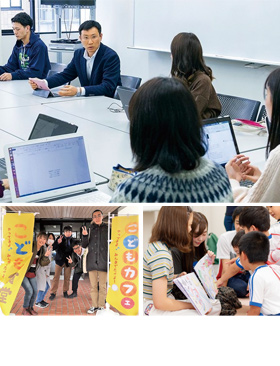 To develop an understanding of the human psyche, it is important to study the physical mechanisms that support it as well as individuals' interactions with society. The Faculty'sprogram goes beyond traditional psychological courses on emotion, cognition, and development to foster a comprehensive, multifaceted understanding of the psyche through a broad range of courses on subjects such as industry, social welfare, medicine, education, and justice.
Training students for a range of social careers through practical learning.
The program exposes students to seminars and practical training starting during their first year so that they can go beyond classroom learning to experience psychology in the real world while taking advantage of their own mind and body. Third- and fourth-year students participate in the practical study of psychology in locations that are closer to society as they hone their skills in communicating, problem-solving, information-gathering, and personal understanding.
Well-equipped facilities and regional network.
Building 14, which houses the Faculty of Psychology, provides a well-equipped environment in which students can further their studies, including Manabee Parenting Salon, a children's playroom that facilitates behavioral observation as well as a neuropsychology lab and anacoustic psychology lab. In addition, students experience psychology through practical training and fieldwork that take advantage of the Faculty's regional network.
Department of Psychology
Practical psychology that can be put to use in society

The Department of Psychology is dedicated to preparing students for careers in a variety of occupations through a program that exposes them to a carefully calibrated balance of studies in a broad range of psychology-related subject areas in order to present psychology as a living social discipline. In addition, it provides a curriculum that prepares students to take the examination to become licensed psychologists, paving the way for them to continue their studies at the graduate level on the way to a specialized career in psychology.
【Close-Up】
Experiencing connections between society and psychology
Topics 01
Launching Manabee Parenting Salon to encourage parents and children living nearby to visit the campus
The Faculty's playroom in Kobe City's Nishi Ward,home to numerous families with children, is open to the community. A special program is offered by students and faculty members once a week.
Topics 02
Learning about neuroscience from physicians who are active in the field
The Faculty of Psychology counts as faculty members a number of physicians who work as neurologists and psychiatrists. These professionals are able to tapthe knowledge they gain from treating patients on adaily basis to teach students about the latest developments in the field.
Topics 03
Clinical Psychology Counseling Center
The University opened the Clinical Psychology Counseling Center in 2007 to help people deal with problems and concerns related to interpersonal relationships at school, work, and home. Full-time intake workers and counselors help local residents maintain emotional health, while graduate students offer psychological counseling as a way to gain practical experience.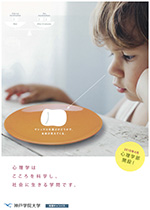 More detailed information is available in the Faculty of Psychology's magazine.
Faculties and Graduate School