The Faculty of Economics
Department of Economics (2017 enrollment limit: 340 students) Established in 1967
To meet the requirements of modern society, studies are split into the three specialized courses of Corporate Economics, Public Economics, and Macroeconomics. The students learn the basic theories of economics and the latest knowledge incorporating the day to day changes in the economy. The specializations of the students are fur thered to suit their chosen career paths and the Faculty helps develop human resources who can correctly read the circumstances of society and have the strength to sur vive in modern society.
Developing Personal Initiative and Capacity Toward Responding to Problems.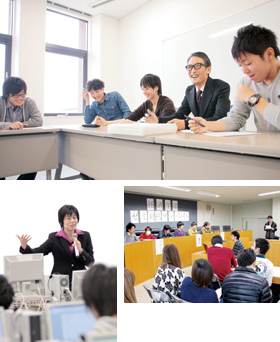 Through seminars and other small-group forms of education, we cultivate students' ability to perform independent research in areas of personal interest. Through study of basic socioeconomic system knowledge as well as the basic mechanisms for systemic change, we develop people with the capability to respond to problems, from identifying issues to formulating solutions.
Towards problem-solving type learning
The students and teaching staff from the Faculty of Economics will become actively involved in the problems experienced by local companies, local governments and schools and invoke state-of-the-art knowledge from economics to communicate policies to solve those issues. Examples include the development of an efficient public information strategy for a business through a statistical review of customer data, the presentation of a vision for a school selection system that makes it possible to find the ideal matches between the wishes of the students regarding their path forward and the types of student that a school is looking for, and the economic effects on local agriculture in Hyogo Prefecture of the TPP (Trans-Pacific Strategic Economic Partnership Agreement). Study is offered that is filled with intellectual excitement.
Setting Sights on the Future by Developing the Ability to Seek Out a Career Path.
From matriculation onwards, through small-group seminar and self-directed learning systems, career training, and internship systems and courses, we develop students' capacities to make career choices after graduation that are both appropriate and in line with their aspirations. Beginning with the latter half of second-year studies, students are enrolled in specialized courses that anticipate their future careers, allowing them to further polish their professional skills.
Department of Economics
Students choose the course that best serves their career path and aptitudes from the latter half of the second year
Corporate Economics Course
Students master knowledge and skills for the purpose of being active in modern corporate society. Based on an overview of future industrial development and structural changes, this is a course from which students learn about corporate economics and practical analysis. The course develops individuals who will be able to perform as members of the business community in regional economies and international venues.
Macroeconomics Course
This course strives to understand and analyze current economic society which consists of the private sector (in particular private companies) and the public sector (including general finance that takes on public roles), from each sector's perspective. The Macroeconomics Course offers systematic learning of economics through theory, history, and real case studies.
Public Economics Course
Gaining an understanding of public systems and public policy such as financial administration, social security, and money and banking, students master knowledge and skills that enable them to perform in the public sector and financial services sector. This is the course best suited for those who aspire to careers in national or local government, nonprofit organizations or local financial institutions.
【Close-Up】
Classes that meet the needs of students in terms of starting careers, acquiring certification, and networking with the community
topic01
Career training support
A host of career training support activities are provided from the first year in order to assist students in initiating a future career path. Inviting instructors from finance think tanks and companies, we organize corporate analyses and workshops about how to handle interviews and employment examinations.
topic02
Support in taking exams and getting certification
Assistance is provided in preparing for civil service examinations and obtaining licenses (e.g., bookkeeping, financial planning) through regular classes and extracurricular courses.
topic03
Collaboration with the community and business
We are involved in invigorating the community. We offer seminar lectures taught by instructors invited from various industries including finance, wholesale, and food industries.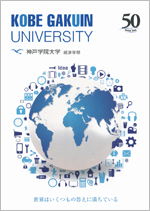 Detailed information is available in the Faculty of Economics newsletter.
Faculties and Graduate School