The Faculty of Humanities and Sciences
The Faculty of Humanities and Sciences
Department of Humanities (2019 enrollment limit: 300 students) Established in 2006
The Faculty of Humanities and Sciences was established in 1990 to offer "broad-based study of human behavior and culture." The Department of Humanities was created in 2006 to offer students a chance to discover their own interests among a broad range of academic areas that includes arts, literature, history, social culture, education and the environment.The educational philosophy of the Faculty is that students should follow their own interests and research their own themes. To realize this, the curriculum provides opportunities to learn in various different fields and to conduct deep and highly specialized research in the field chosen.
Pioneering a New Future by Mastering Humanities.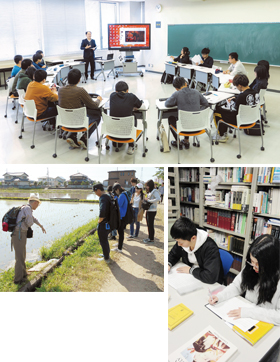 Education in the Faculty of Humanities and Sciences, in other words, gaining a knowledge of humanities, fosters the ability to think from a variety of perspectives by integrating knowledge from an array of specialized fields. This is the knowledge that is truly necessary to prepare for an uncertain future. Students will acquire the strength necessary to pioneer a new future through the in-depth study of human beings, nature and society as parts of the knowledge of humanities.
Deep Expertise, Extensive General Learning and Career Education.
Students pursue their own individual interests with deeper learning through studies in special fields. Practical learning in small groups increases this expertise. At the same time, students can also take a wide range of classes in various other fields. In the career education, programs are set to prepare students to play an active role in society and opportunities are provided for positive exchanges and cooperation with a wide variety of people both from within the University and beyond.
Students can Gain a Wide Variety of Teaching Certifications and Other Qualifications.
In the Department of Humanities, it is possible to acquire certification as a First Kind of Junior High School Teacher's License (Japanese, Social Studies, English) and First Kind of High School Teacher's License (Japanese, Geography and History, Civics, English). There is also a program for obtaining the First Kind of Elementary School Teacher's License, and students can take classes for the acquisition of a Curator Qualification and classes to prepare students for civil service recruitment examinations.
Department of Humanities
Discover a field that is most suited to individual needs, develop initiative, and increase self-motivation
Human exploration courses
Students study and research culture and the people forming that culture from the aspects of ideology, philosophy, ethics, education, arts (fine art, music, performing arts, photography) and comparative culture. The ultimate goal of these studies is to explore the existence of human beings.
Language and literature courses
Language is an effective means for human beings to grasp matters, think, communicate their intentions and express their emotions. Through deep learning of language and literature, including in a foreign language, students gain increased insight into various matters, the ability to understand others and the ability to express themselves.
Environment, anthropology, local community and history courses
Human beings have lived together with nature in the spaces of their regional areas and have created societies and formed cultures there. Each of these cultures always has its own unique history. We aim to provide students with a deep and comprehensive understanding of the world through studies of nature, society, regional areas and their history.
【Close-Up】
Diverse activities that connect the Faculty of Humanities and Sciences with society
Topics 01
Fieldwork classes for learning outside the University
The Faculty of Humanities and Sciences actively provides classes where students do field studies or hear from local people. The photograph shows students participating in an autumn festival at Akashi Inazume Shrine, where teachers and students of the Faculty of Humanities and Sciences continue their research.
Topics 02
Forging connections between the University and the surrounding community Center for Area Research and Development
Based on the University's philosophy of coexisting with the surrounding community, Kobe Gakuin University's Center for Area Research and Development has worked with local residents to unearth the region's various underlying strengths and has learned together with the residents to help revitalize the local society.
Topics 03
Rearch on classical literature and arts from Japan and overseas that have survived over the eras
A core subject and theme of the Faculty of Humanities and Sciences is research into Japanese and foreign works of literature and art that have retained their value as the eras have changed. The study of sophisticated literary works enables the students to experience the profoundness of culture and this increases their depth as human beings and nurtures their insight.

Detailed information is available in the Faculty of Humanities and Sciences newsletter.
Faculties and Graduate School