The Faculty of Pharmaceutical Sciences
The Faculty of Pharmaceutical Sciences
Department of Pharmaceutical Sciences (2017 enrollment limit: 250 students) Established in 1972. Shifted to 6-year system in the 2006 academic year.
Pharmacists work to prepare medicines according to prescriptions as well as instruct patients on correct dosage methods at hospitals and pharmacies. At a pharmaceutical manufacturing company, you may be involved in the development of new drugs, or provide information on pharmaceutical products to people involved in health care as a medical representative (MR). Established in 1972, the Faculty of Pharmaceutical Sciences aims to have students acquire the knowledge and skills required for pharmacists as healthcare professionals, cultivate bachelors of pharmaceutical science with problem-solving abilities necessary for meeting medical needs from society, and train pharmacists with sophisticated expertise and skills.
Outstanding Pharmacists are Developed in 6-year Program.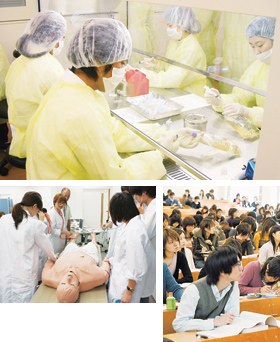 In 2006, the faculty switched from a four-year undergraduate educational program with two departments to a single department and a six-year system. Centering on the areas of biopharmacy, molecular pharmacy, physical pharmacy, social pharmacy, and clinical pharmacy, we aim to provide an educational program, facilities, and equipment which are one step above, in order to produce pharmacists who have the interests of others at heart.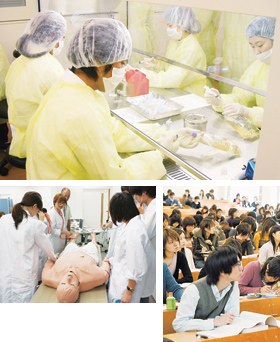 A systematic curriculum and a high pass rate in national license examinations.
Students acquire the knowledge, skills and attitude necessary for pharmacists through a curriculum that spans systematically from basic courses to specialized subjects, practical training, long-term clinical training at hospitals and pharmacies and also graduation study using the latest equipment. Furthermore, detailed guidance for the national license examinations produces a consistently high pass rate.
Active overseas exchange opportunities from the student's perspective.
Students regularly participate in training at partner institutions on the East Coast and West Coast of the U.S. (including at Pacific University and the University of California). They also tour nearby medical facilities, where they learn about the latest techniques in clinical pharmacy and expand their international perspective. In addition, pharmacy students from partner institutions come to Japan as part of an active program of multicultural exchanges.
Department of Pharmaceutical Sciences
The 6-year program that fosters expertise and a concern for others
The Faculty of Pharmaceutical Sciences sees pharmacists as having to be "healthcare professionals committed to serving others" and therefore works to develop pharmacists as individuals with the highest of qualities, who are contributors to society. To meet this objective, we offer students hands-on learning opportunities right after admission to promote cultivation of their communication ability and understanding of the nature of this profession. The freshman year is devoted to basic studies, the second through fourth years to technical education, and in the fifth year a five-month practical training period in a hospital and dispensing pharmacy is arranged. In the sixth year, more advanced professional training is provided, and an assigned research program leading to graduation is being planned.
Steps to Gaining Certifications

【Close-Up】
Total support from before admission to passing the national pharmacist's exam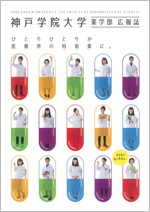 Detailed information is
available in the Faculty
of Pharmaceutical
Sciences newsletter.
topic01
Preparation for the national pharmacist examination
by careful guidance
The faculty offers across-the-board support to students by leveraging expertise gained from more than 40 years of passionate guidance and work to ensure students pass national certification examinations. Faculty members offer fine-grained guidance through lectures on how to prepare and simulated examinations based on individual students' level of preparation. As a result, our pass rate exceeds the national average.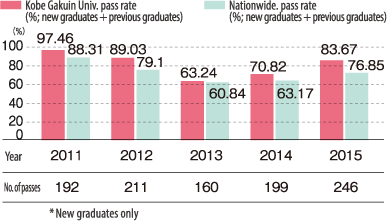 topic02
Total care program
We help students prepare to continue their studies at their institution of choice, regardless of whether they are pursuing admission by means of a recommendation program targeting specific schools or the general public or by entrance examination. In addition, we offer an extensive range of examination preparation measures and job search support for enrolled students.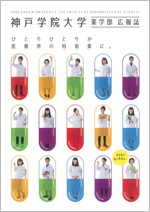 Detailed information is
available in the Faculty
of Pharmaceutical
Sciences newsletter.
Faculties and Graduate School