The Faculty of Business Administration
The Faculty of Business Administration
Department of Business Administration (2018 enrollment limit: 340 students) Established in 2004
There are currently many businesses all around us, including convenience stores, banks, automobile manufacturers and transportation companies.
It is probably no exaggeration to say that our daily lives would not be possible without them. In other words, businesses are useful for people and for society and are carr ying out enterprises to create happiness. Business administration refers to the mechanisms by which businesses carr y out their enterprises and to the measures they take to continue their existence and to develop and grow. It is also demanded that the people that work for businesses are made happy. The purpose of this Faculty is to learn about the situation of business administration from various angles.
Learning about the Activity and Role of Companies in Society and the Economy.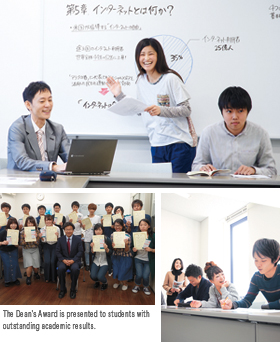 What role do companies play in society? How do they function in the flow of goods and money that we know as the economy? Students learn about how companies make profits and other similar questions.
Learning about Information and Communication Technology for Supporting Corporate Management.
Knowledge of communications within our Internet society as well as of computer-based information technology is essential for dealing with today's advanced information systems. The Faculty of Business Administration provides students with this essential training.
Learning Specialized Languages to Respond to a Globalized Society.
Corporations move within the international arena. Communication in foreign languages is essential for international business in today's world. We take a practical, communications-oriented approach to the study of English and Chinese.
Department of Business Administration
Gain an organized understanding of the movement of people, commodities, money and information
Business Administration and Commerce Course
In the Faculty of Business Administration proposes three model plans that match the assumed vision of human resource starting with the fundamentals of corporations, and management, picking up general knowledge of management organizations and strategies, and gaining specialized understanding of distribution and marketing, thus enabling effective learning.
Business Administration Information Science Course
Students acquire operation, data processing, and analysis skills essential for the use of computers for business and business administration. Classes include information processing, statistics for business administration, management science and management information theory, and students can learn everything from basic theory to practical application.
Accounting Course
With a foundation in basic accounting, financial accounting and other areas, students study highly specialized fields such as auditing and tax accounting. Students work to become certified public accountants, tax accountants, and corporate accounting specialists.
【Close-Up】
Getting up close and personal with business while still in school
topic01
"Freshman Welcoming Lecture Meeting"
Chairman Machiko Nambu of Kobe Cruiser Co., Ltd., which operate the Concerto, a ship that offers dining cruises at Kobe Harborland, gave a lecture entitled "Twenty Years with a Ship of Destiny: Thoughts on Kobe."
topic02
Career training that maps out one's future
First-year students take "Introduction to Career Training" in order to think about what it means to join the working world. Second-year students take a special course for the purpose of career design and third-year students have the opportunity to take company internships. We also offer special business administration lectures to third- and fourth-year students.
topic03
Faculty of Business Administration newsletter, Business C3
The newsletter includes a special feature on corporate research as part of its theme of "Analyzing the Current Business Situation." The feature introduces Value Planning Co., Ltd., a Kobe-based company with a new business model based on selling the functionality of clothing.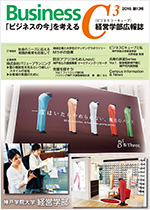 Detailed information is available in the Faculty of Business Administration newsletter.
Faculties and Graduate School