The Faculty of Humanities and Sciences
The Faculty of Humanities and Sciences
Department of Humanities (2017 enrollment limit: 300 students) Established in 2006
Department of Human Psychology (2017 enrollment limit:150 students) Established in 2004
The Faculty of Humanities and Sciences was established in 1990 to offer broad-based "study of human behavior and culture." The Department of Humanities, which was created in 2006 by merging the Department of Man and Culture and the Department of Human Behavior, offers students a chance to discover their own interests among a broad range of academic areas from the arts, literature, environment and social culture. Currently it consists of two departments, the Department of Humanities and the Department of Human Psychology. The educational philosophy of the Faculty is based on "stimulating an ardor for learning." This is based on the thinking that without this passion there can be no spirit of academic inquiry, enthusiasm, efforts or new ideas.
Deep Expertise, Extensive General Learning, and Career Education.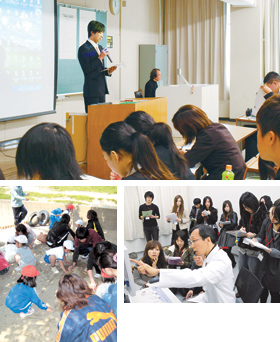 Hands-on learning transitions students' interest in human culture and society and in people's minds into a deeper understanding, and broad general learning enables students to more proactively interact and collaborate with a diversity of people. We put students securely on the path to their careers with a curriculum that aims to produce students who are outstanding members of society.
Variety of Teaching Certifications Available (Department of Humanities).
In the Department of Humanities, it is possible to acquire certification as a First Kind of Junior High School Teacher's License (Japanese, Social Studies, English) and First Kind of High School Teacher's License (Japanese, Geography and History, Civics, English,Information Technology*). From 2017, we will change the curriculum to provide learning. *Information Technology's License can be acquired until the 2017 entrance student.
A Full Array of Specialized Facilities and Equipment (Department of Human Psychology).
The Faculty has the optimum facilities and equipment for learning psychology. A nuanced curriculum with practical training at its core provides students with a variety of expertise. By progressing to a Psychology major in the Graduate School, students can deepen their learning even more and acquire specialized certification.
Department of Humanities
Discover a field that is most suited to individual needs, develop initiative, and increase self-motivation
Areas: Human knowledge courses ; human exploration courses;language and literature courses; environment, anthropology, local community, and history courses
From a broad array of specialized education, students can select the field that most suits them. Additionally, through hands-on learning and career education, students can foster the ability to judge and make decisions on their own. The culture and common sense of the students mature and the students acquire the communication skills necessary in society.
Department of Human Psychology
Psychology that can be practically applied and utilized in society
Areas: Developmental Psychology, Clinical Psychology,Therapeutic Psychology, Social Psychology
Based on the motto of psychology that participates in society, we provide opportunities for practical training at outside venues such as hospitals, in order to improve the qualities of the individual as a member of society. Furthermore, our Graduate School of Humanities and Sciences has been designated a level one designated school for Clinical Psychologists and we focus our efforts on our clinical psychologist training program.
【Close-Up】
Diverse activities that bring society together with the Faculty of Humanities and Sciences
topic01
Offering a variety of field work classes for learning outside the university premises
There is much more to learning than listening in a classroom. The Faculty of Humanities and Sciences actively provides classes where students do field studies or hear from local people. For example, students participated in an autumn festival at Akashi Inazume Shrine, where teachers and students of the Faculty of Humanities and Sciences continue their research.
topic02
Clinical Psychology Counseling Center which local people rely on
The center was opened to offer counseling about parenting and interpersonal relationships. It is run primarily by full-time counselors and Kobe Gakuin University faculty with clinical psychologist qualifications. As the school has been designated as a level one designated school for Clinical Psychologists, the center is also used as a venue for educating and training graduate students.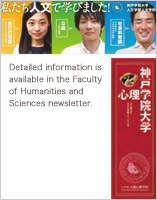 Faculties and Graduate School