Japanese Language and Culture Program
Japanese Language and Culture Program
1.Program overview
Kobe Gakuin University (KGU) offers a short-term intensive language program that is open to the students of partner universities from countries around the world. The program's objective is to improve Japanese proficiency and deepen understanding of both traditional and various aspects of contemporary Japan by taking classes and going on field trips that participants can experience and learn about history, culture, and society. Opportunities to interact with Kobe Gakuin University students have also been incorporated into the program.
2.Location
Port Island Campus
Address: 1-1-3 Minatojima, Chuo-Ku, Kobe 650-8586
3.Program Schedule
Summer Program:29th June - 14th July 2024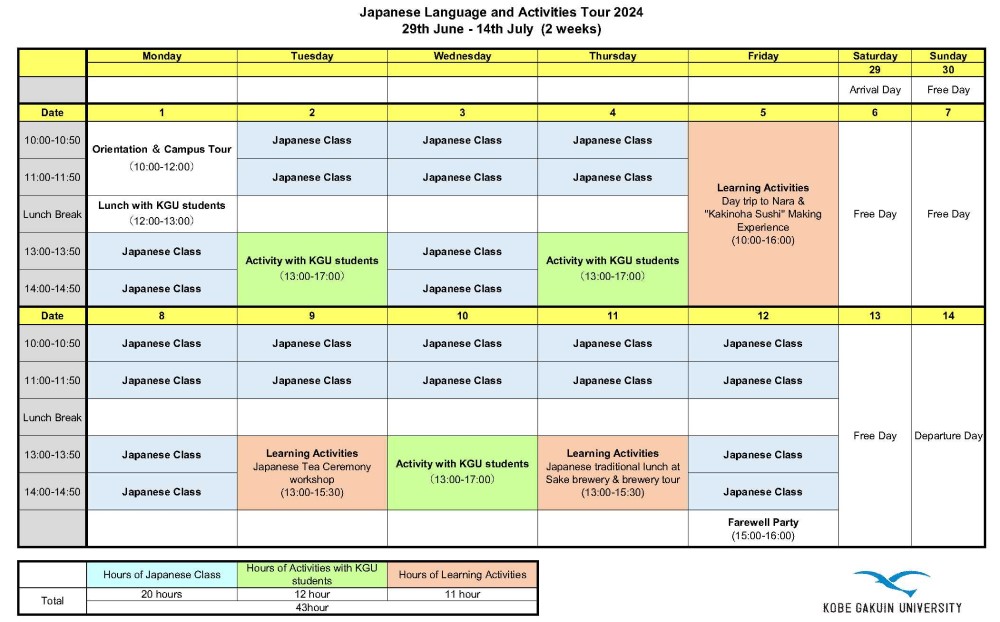 ※The schedule is subject to change.
4.Eligibility
a.Those who are the students of KGU partner universities
b.Japanese language level of JLPT N5~N4 or equivalent
※Classes are set for N5~N4 level. Class content is focused on practicing daily conversation while explaining Japanese culture, is not designed for JLPT preparation.
5.Number of Participants
Minimum of 6 students
Maximum of 10 students
Fewer than 6 participants will result in the cancelation of the program.
6.Accommodations
All participants stay with a host family, located approximately 30-60 minutes from Port Island Campus by public transportation. All students will receive 2 meals at home (breakfast and dinner) and a bedroom furnished with a bed or Japanese futon (a floor mattress), desk, and free Wi-Fi. Depending on the number of families that are available during the term, two students may be placed together with one family.
7.Program Cost
Total cost: About ¥100,180

Costs include below:
Content
Cost
Notes
20 hours Japanese Classes & Class Materials
Exempt

n/a

Learning Activities
About ¥5,800
・Day trip to Nara & "Kakinoha Sushi" Making
・Kimono dressing & Tea ceremony workshop
・Sake brewery tour & Japanese traditional lunch at a brewery
・Please pay by cash on the first day of the program.
・Additional charges may apply for a different menu due to allergies or religious reasons for the lunch at a brewery.
・All public transportation fees to arrive at locations are not included.
Homestay
¥90,750+4% surcharge
・Arrangement fee
・Pick-up fee at Sannomiya Station on the arrival day
・15 nights homestay including 2 meals daily(breakfast & dinner) provided by host families
The invoice will be sent to applicants from the Homestay arrangement company, Nextage Co., Ltd. There will be a 4% surcharge on the total amount for payments made by credit card or digital payment methods.
8.Application Forms and Deadline
The following (i) documents need to be sent to KGU by the partner universities by Email. Due to the small number of places available, the partner universities should forward application to KGU as soon as possible. Any delay could result in failed application.
9. Contact Information
International Exchange Support Office
Email:imanager@j.kobegakuin.ac.jp
Tel.: +81-78-974-4395
Fax.: +81-78-974-2243
Mailing Address: 1-1-3 Minatojima, Chuo-ku, Kobe, Hyogo, 650-8586 JAPAN
International Academic Exchanges