Facility
Library
A base for study and research with a collection of 1,100,000 books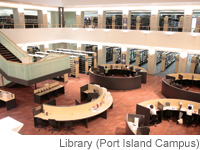 There are around 1.1 million books, 29,000 pieces of audio-visual material and 7,200 scientific journals in total kept in the Arise Library and Port Island Library. In addition, a database that can be used in study and job searching has been prepared and electronic journals have been introduced, so that it is easily possible to search for and obtain any information necessary on materials. In addition to providing materials, the libraries also develop and implement events for students such as information search navigation, reading rallies and tours of student selected books, and actively open up the facilities to the people of the local areas. For example, they encourage the use of the libraries by persons from outside of the University through the issuance of non-university user registration and entry passes. They also hold book themed exhibitions and lecture meetings related to them.
Information Support Center
Provides support for e-Learning and computer assisted education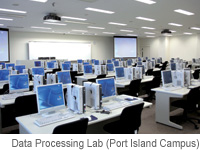 This center supervises the building, management, and operation of the university's IT environment (networks, various operation systems, etc.). It provides support for e-Learning and the use of computers in education. Approximately 1,100 personal computers have been installed in information processing labs and study halls, while e-Learning has been instituted through a network which enables the exchange of instructional materials and tasks. In addition, students are provided with a service that updates them by home PC or mobile phone about makeup class dates and classroom changes. The Information Processing Center thus continues to provide a robust IT environment by actively incorporating evolving data technologies.
Career Center
Providing career opportunity information and backup for practical training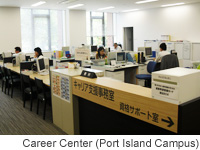 The Career Center features JOB HUNTER, Kobe Gakuin University's unique recruit information system. Registered in the database are 29,000 companies that are recruiting new employees or have made informal job offers (naitei) to Kobe Gakuin University's students. The center also hosts various courses to prepare for job hunting, with job placement guidance sessions (five times a year) serving as pacesetting events. The center offers an array of job hunting-related consultation services and training programs as required for respective students, including revision of application forms and personal resumes, interview practice, and provision of recruitment information. Students can expect much support in coping with anxieties, troubles, questions, etc. during job hunting.
Campus Information