Institute for Promotion of Higher Education
Institute for Promotion of Higher Education
The Institute for Promotion of Higher Education was founded in 2014 with the objective of improving the quality of education university-wide and of enriching general education, teacher training education, and career education. The Institute currently includes the Center for General Education, Center for Teacher Education, and Center for Career Education.
Center for General Education
(Established in April 2014)
The purpose of this center is for students to gain wide and rich knowledge of culture, society, and nature, to obtain the knowledge and skills required for effective communication with people and for independent living through various experiences, to foster a sense of ethics and responsibility as a member of society, and to form a self-reliant learning foundation required for lifelong learning.
Offering a broad range of study as only a university with ten faculties can
Kobe Gakuin University takes advantage of its status as Kobe's largest private university with both humanities and science programs to offer a diverse range of courses. By actively studying fields that lie outside specialized courses offered by their own faculty, students are able to cultivate a broad perspective and the ability to think flexibly.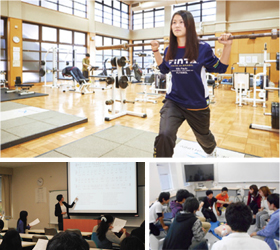 Sports Science Unit, a program that invites students to undertake a multifaceted study of sports theory and practice
The sub-major program allows students of the Faculty of Law, Economics, Business Administration, Humanities and Science, and Contemporary Social Studies to study sports. Today, the promotion of sport has come to encompass both government and business. In the Sports Science Unit, we have put together a diverse learning program that goes beyond lecture-based courses to encompass exchanges with overseas universities and research institutions, participation and orchestration of local sports and health events, and hosting of sports festivals as part of a community service focus. The program serves to prepare students to contribute to society through their involvement with sports.

Kobe Gakuin College, a special English-language program that seeks to train global professionals
This special program allows students with a high level of English proficiency who are interested in improving their English skills to do so while studying specialized courses offered by their own faculty. First offered during the 2016 academic year, it is part of a university-wide effort to prepare students for careers as global professionals. Selected students are offered special courses on topics such as English conversation and TOEIC preparation. In addition to offering special language courses, a special program has also been implemented at the State University of New York at Fredonia in the U.S. from AY2018, so that students can learn the wide-ranging knowledge that will be necessary for them to play an active role as global professionals.
Center for Teacher Education
(Established April 2013)
The Center for Teacher Education was established in order to improve the quality of the University's teacher training course and museum curator training course. It has three primary functions. The first is to offer support to students who wish to become teachers. Specifically, the Center operates a Teacher Education Support Office at both of the University's campuses. A rotating group of teachers with actual experience at elementary schools, junior high schools, and high schools offer advice to students along with guidance on how to prepare for Japan's teacher certification examination. These offices also offer a range of resources for free use by students, including collections of books and magazines and computers. The Center's second function is to support educational research conducted by the University's teacher training course and museum curator training course. One example of this mission is its publication of the Journal of the Center for Teacher Education, an annual bulletin that collects research papers published by faculty members, including part-time instructors. Finally, the Center's third function is to offer courses for teachers seeking to renew their licenses. The Center holds these teacher license renewal courses for active teachers in early August, and the 2016 course attracted more than 1,200 participants.
In this way, the Center for Teacher Education offers detailed support to the University's students.
Center for Career Education
(Established April 2016)
The Center for Career Education was established with the objective of promoting activities related to the implementation, development, and application of career-oriented education across all of the University's programs in order to foster the skills necessary for social autonomy on the part of students.
As a common educational subject (literacy area career education sector), classes to enable students to become aware of their own characteristics and possibilities (see page 9) are held from the students first year. The aim is that the group work will help the students to acquire the ability to solve problems and will produce the human resources who will be able to contribute to the local region in various different fields. There are also various extracurricular courses held in the Extracurricular Course and Certification Support Office, which is dedicated to helping students earn various certifications and pass Japan's difficult civil service examination.
Going forward, these regular classes and extracurricular courses will be systematically organized and implemented to prepare a curriculum for the realization of "integrated career education."
Faculties and Graduate School